The name is reminiscent of Lord Charles John Canning, a British statesman and first viceroy of British India. The park is one of Singapore's landmarks and has a long and interesting history dating back to the Middle Ages.
The mountain is 48 meters high and escalators were built so that visitors can get from the street "up" into the park. That sounds so crazy to us who came from the Alps.
Fort Canning Park is located southeast of Singapore in the center. Directly behind the National Museum. Since the island resembles rather an opened fan, I have so my difficulties with descriptions after the cardinal points. You can still find the park within the central business area. It borders Fort Canning Rd/Canning Rise, Clemanceau Rd/Penang Rd (Orchard) and River Valley Rd/Clarke Quay.
The park also houses a water Reservoir of the city. If you want to know more about it, you can get more Information here.
But the park has much more to offer:
A spice and parts of a botanical garden – Interesting herb and spice plants. (In 1822, Sir Stamford Raffles, a keen naturalist, build his first botanical and experimental garden)
The Sculptures section ('Unity', a copper plate abstract piece by Indonesian artist But Muchtar; 'Taming Sari', a fibreglass work consisting of a broken kris and sabre by Malaysian sculptor Ariffin Mohamed Ismail; 'Fredesvinda', a reinforced concrete structure of an unfinished boat by Filipino sculptor Napoleon V. Abueva; 'Concentration', a steel-plated sculpture by Thai artist Vichai Sithiratn; and 'Balance', a piece made from industrial concrete by Singaporean sculptor Ng Eng Teng)
The Fort Canning Centre (until 15.9.2019 The Bicentennial Experience – From Singapore to Singaporean)
The oldest Christian cemetery (was "renovated" in 1953. Today Garden of Memory)
The Raffles House – a replica (Sir Thomas Stamford Bingley Raffles 1781 – 1826)
Cupolas (Tomb of Mr. George Dromgold Coleman. He was a colonial architect from 1826-1841 and advisor to Sir Stamford Raffles for the city map of Singapore 1822-1823).
Remains of the fortress (from 1861 to 1926 – the fort served to protect Singapore from an attack across the sea and the refuge of Europeans in the event of local unrest)
A 9-pound cannon
Gothic Gate (1846)
Lighthouse (this was one of the 13 lighthouses in the Strait of Malacca)
A bunker (Second World War)
Fort Canning Hotel http://www.hfcsingapore.com/
Archaeological dig site (The area is located near the marriage register and the Keramat Iskandar Shah. It is from the 14th century.)
Keramat Tomb Iskandar Shah (Keramat Iskandar Shah is seen according to legend as the final resting place of Sultan Iskandar Shah. Before he adopted this name and converted to Islam he was may Hindu and his name was Parameswara. He is considered the last king of Temasek [today Singapore] in the 14th century)
etc.
And of course a rich flora with beautiful shade-giving trees. On the weekends the park is also very popular with the locals, who escape the heat here a little, talk, listen to music and have picnic together.
How to get there?
From everywere you'll find it. Come with Car, Bus or MRT.
With MRT to Fort Canning Station (Exit B), Clarke Quay Station (Exit E) or Dhoby Ghaut Station (Exit B).
For the other possibilities look here: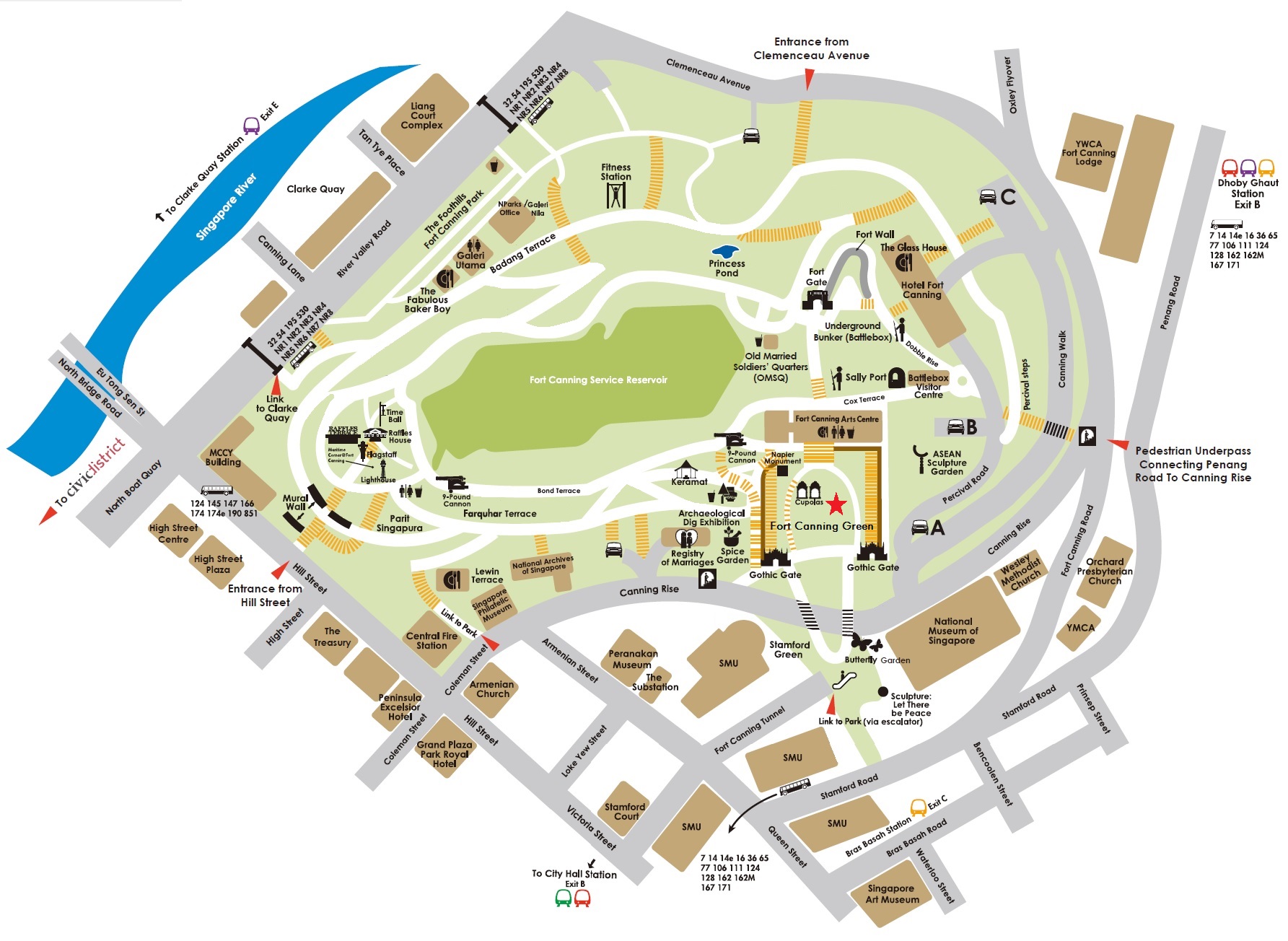 This map ist from nparks.gov.sg. Here you can get more informations about the Fort Canning park and other parks in Singapore.